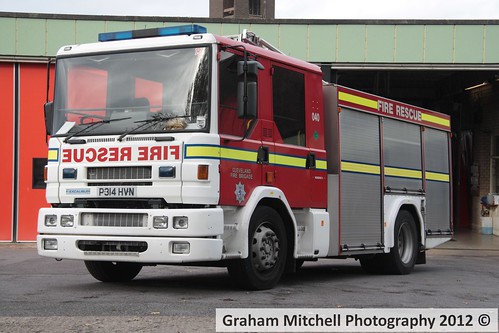 Dennis P314 HVN ex service Cleveland Fire Brigade front line appliance
This Dennis fire appliance was kindly donated to Operation Florian by Cleveland Fire Brigade. It was one of two of this model donated at the same time. This ex service front line vehicle was driven to the "Africa Dock" at Teesport in the UK where it was shipped to Walvis Bay in Namibia. From there it was driven by Harare firefighters to their city which is the capital of Zimbabwe. Along with donated vehicle ex Cleveland P312 HVN it has increased the fire capacity of Harare Fire Brigade.
This vehicle formed a convoy of six fire appliances donated by Operation Florian to fire services throughout Zimbabwe. It is now on the run giving vital fire cover. Harare Fire Brigade have a number of Dennis fire appliances of various ages. The advantage of the Dennis is they have experience operating and servicing these type of fire appliances.
Details
Donated by: Cleveland Fire Brigade
First registered: 05/03/1997
Make and model: Dennis Excalibur
Vin number: SFD222A12TGS80263
Engine number: CUMMINS21247318
Return to all